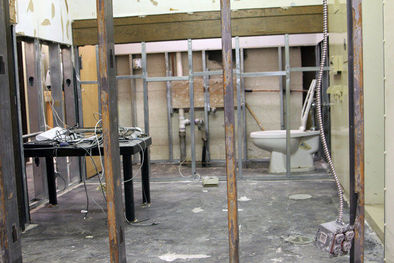 FROM NJ.COM. VISIT NJ.COM FOR MORE NJ NEWS
Sandy-battered Moonachie borough hall will get $2.1M replacement
Damage inside Moonachie's borough hall after Hurricane Sandy.
(S.P. Sullivan/NJ.com)
S.P. Sullivan/NJ.com
By
S.P. Sullivan/NJ.com
on March 17, 2014 at 2:07 PM, updated March 17, 2014 at 2:20 PM
MOONACHIE
— The town and the Federal Emergency Management Agency are finalizing a $2.1 million deal to replace Moonachie's municipal complex, which was flooded out during Hurricane Sandy, officials announced today.
"It's not going to complete the project, but it's a start in the right direction," Dennis Vaccaro, the town's mayor, told reporters, standing beneath the exposed wiring and insulation of the council chambers.
The complex was home to both borough hall and the town's police department before the storm. Officials from the borough, one of the Meadowlands towns hardest hit by flooding when a tidal surge overtook the Hackensack River, have been working for months out of temporary trailers next door.
U.S. Rep. Bill Pascrell, appearing alongside Vaccaro, said FEMA's initial estimate for repairs for the facility was significantly lower — $68,000 — in part because it underestimated the police department's presence within the building.
"I know the Governor has been going around blaming the federal government for his administration's botched handling of federal funding," Pascrell said. "But this is a case that has shown that working together, the federal government and local government — and in this case, the county too — can come together to make the rebuilding process work."
The $2.1 million includes the demolition of the existing building, which will be funded by Bergen County, and about half a million dollars from the National Flood Insurance Program.
Pascrell called the NFIP a "lifeline" for Sandy victims and advocated for
a measure recently approved by the House and Senate
that delays the implementation of rate increases based on new flood maps drawn by FEMA post-Sandy.
"This could wipe out a town like Moonachie," Pascrell said of the rate hikes.
Vaccaro said demolition of the gutted-out borough hall is expected to begin soon and that construction of the new facility would likely start in the fall.
© 2014 NJ.com. All rights reserved.
---